WE ARE ON A MISSION…
To help businesses
drive technology transformations

– by making long lasting, effective improvements in technology, processes and capabilities.
We keep
relentless focus

on outcome-driven strategy, powered by technology & harnessed by an all-round comprehensive IT skill set.

Let's Discuss YOUR Next IT Project
















Supporting You to Make You Self-Dependent
We not just become an extension of your team – but also train your internal members to independently handle your IT projects.
Contact US Now
Let's Discuss YOUR Next IT Project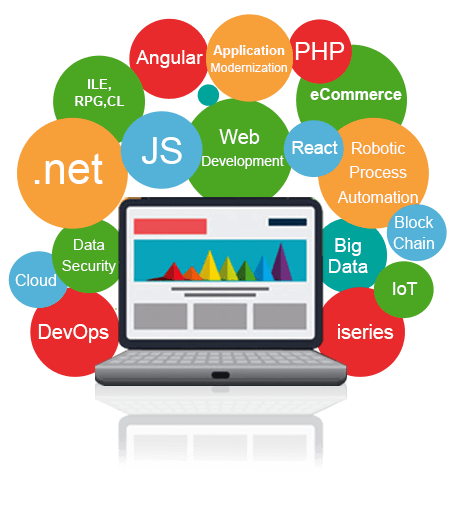 Technologies We Use for Driving Desired Business Outcomes for YOU
At Integrative, with the help of right technology, we help transform your IT initiatives into a strategic asset and a critical component of your business process that helps in building revenue and in creating competitive advantages for you.
Contact Us
Here's What Our Clients Have To Say
Business Process Optimization
We believe in prioritizing our customers' success before ours
We help you reach the market at twice the speed and half the price
We not just extend your team, but train your team to operate with minimum support from us
We offer legacy & modern platform support
Transparent billing – no long-term agreements or extra bells and whistles charges
ABOUT US
We are a 20+ years old trusted Software Development Company based in Chicago with clients all over North America and Canada. Since our inception, we've been a software innovation partner for SMBs and Fortune 500 companies. Our team of professionals provides a full range of software engineering and consultancy services for both the technology challengers and the users of established technologies. And our expertise is in Microsoft Windows applications(desktop and web), IBMi/AS400, JDA MMS, BPCS and mobile apps (Android, iOS and Windows Mobile).
OUR CULTURE
Exceptional work culture that is vibrant and performance driven – A work place that you aspire to be a member of
Egalitarian Organization
At Integrative Systems, we have an Egalitarian work culture. We proactively work towards fostering an environment – wherein every associate is incentivized to think independently; bring to bear diverse and dynamic resources to resolve complex problems collaboratively. And most importantly, understand the meaning and growth in their work.
Read More
In the retail business, change is constant as competitors keep emerging, economies fluctuate,

IBM's hardware and software products are very robust, and organizations using the old