Business Planning and Control System (BPCS) is one of the most preferred enterprise resource planning (ERP) software in several manufacturing units. With the ability to provide fully integrated support for the core business processes, BPCS is one it's kind ERP. One can further enhance the outcome from BPCS by integrating it into some of the advanced tools and dashboards.
Thus, business leaders can get a bird's eye view of their complex business processes with the help of BPCS ERP. Further, there is the scope of BPCS modernization and enhancement in order to gain business insights that help in taking effective business decisions.
Some of the benefits of using a BPCS ERP in your systems are as following
01. Efficiently eliminates business uncertainties
It is very important for business leaders to have a clear understanding of their business processes and get ways to efficiently optimize them. This can help them make critical business decisions in favor of the business process.
Irrespective of your focused area, business volume, the BPCS ERP will help you eliminate uncertainties and strengthen your process. Further, you can integrate advance technology with your ERP and get it custom made it as per your end requirement. You just have to look for some good BPCS ERP solutions from a good ERP service provider that has a complete understanding of the systems.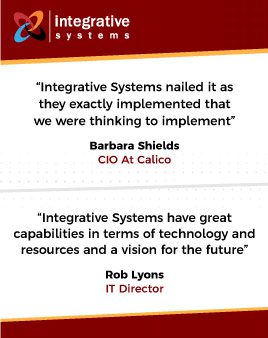 See How Integrative Systems Can Help You Boost Business Capabilities
Best-in-class Resources – Get exposure to the expert's pool
Business Transparency – Our team offers transparent business services at every step.
Cost-Saving – Effective strategies with clear ROI.
02. Seamless shipping and order management
Shipping and order management are the two pain areas of almost every manufacturing unit. Both of them plays a significant role in offering an astonishing customer experience for valuable customers and hence one cannot ignore these two aspects from their business evaluation. With new advancement, now business decision makers can integrate ShipSoft and ShipPack with BPCS with the help of slight modification in the system.
Thus, you can get a BPCS ERP system that acts as an interface and enables order processing from the order entry to delivery. With the help of this, you can enjoy the benefit of calculating accurate shipping costs for invoicing and instant visibility to present orders and shipment status without any delays.
03. Extensive Data Validation
Previously, data validation was a very hectic affair in the manufacturing units. It used to be a time consuming task and needed involvement of several resources. Now, with the BPCS ERP you can efficiently get ready to assist data and buyers comply without much efforts. You may need to take help of some systems such as Mega XML for hefty data set. 
This will help you gain an easy access to your business data and with appropriate validation. With a simple integration in your BPCS ERP you can get your data validation in much lesser time.
Integrative Systems is the preferred BPCS ERP Solutions provider for several giant manufacturing units. We have worked for more than 50+ enterprises who use BPCS in a variety of sectors and provided services such as BPCS integration, modernization, and consultation. Talk to our experts now to get your Infor BPCS enhancement done or drop an email at [email protected]