Time to Read – 4 Min 11 Sec
Summary
BPCS is software used to control the operations of manufacturing industries. It was developed by System Software Associates (SSA) which later become SSA Global Technologies. Later, SSA was acquired by Infor Global Solutions.
BPCS system is a type of Enterprise Resource Planning software. It includes MRP logic for manufacturing operations and provides a high standard of data validity and inventory accuracy.
BPCS runs on several systems, among which IBM iSeries AS400 or IBMi being the most popular. And it is written in RPG, SQL, and other IBM languages, which makes it unique. You can always upgrade your BPCS system and get new features and functionalities on board to make the business operations smooth. Let's walk in through the blog to understand its benefits for businesses in the modern world.
Connect with our experts to get all your answers
In this digital transformation era, technology is shifting so rapidly that it's difficult for organizations to keep up with the pace and improve overall operations. Also, you can't afford to lose your existing massive software investment – like ERP investments, so the only option you have is to take the risk of moving steadily to a new ERP platform.
At Integrative Systems, we can help you enhance your BPCS system or ERP system (BPCS is in the category of ERP software) that will satisfy your user requirements internally and externally. Before moving forward, let's understand what is BPCS and its functionalities.
What is BPCS?
BPCS stands for Business Planning and Control System. It's a popular system of application programming for manufacturing and other industries associated with SSA. According to SSA reports, BPCS is installed in over 8,000 enterprises worldwide. The BPCS system is divided into:
Configurable Enterprise Financials:
Consist of accounts payable and receivable, cost accounting, budgeting, analysis, and remittance processing.
Supply Chain Management Applications:
It includes inventory management, sales forecasting, sale and purchase, and promotions.
Multi-mode Manufacturing Applications:
It consists of capacity planning, production scheduling, plant maintenance, and many more tasks.
BPCS system helps businesses because it incorporates beneficial aspects for both, i.e., product or service implementation planning and financial planning. Through evaluating supply-chain processes, the BPCS system can help organizations in making the process more effective and efficient.
Deployed on the IBMi platform, BPCS system supports manufacturers in various industries like – Chemical, pharmaceutical, food and beverage, consumer goods, and many more are there on this list.
CIOs/CTOs Handbook to Set the IT Priorities Right for 2023
CIOs/CTOs Handbook to Set the IT Priorities Right for 2023
Connection Between BPCS and ERP
BPCS and Enterprise Resource Planning (ERP) are interconnected because BPCS is a type of ERP software. The only difference is that the BPCS system is a specific type of ERP made by Infor (A business software company). Sometimes, BPCS is called ERP BPCS.
In terms of functionality as well, BPCS and ERP are very similar, with some minor differences.
ERP system is an integrated planning and management system made available to users through a server (either kept on company location or hosted offline). Generally, an ERP system is a tool used in business planning, but enterprise resource planning is a broad term, and it implies – the management of various processes simultaneously.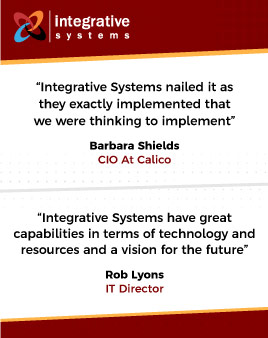 See How Integrative Systems Can Help You Boost Business Capabilities
Best-in-class Resources – Get exposure to the expert's pool
Business Transparency – Our team offers transparent business services at every step.
Cost-Saving – Effective strategies with clear ROI.
Changes you Can Make in Your BPCS System
If you are using an old BPCS system, you must be feeling the need to upgrade the existing setup, experience new ERP functionality, and integrate with the other modern systems in your organization.
BPCS system can leverage business logic to provide new functionality and save the cost of operations for your company. Have a look at what all you can modernize in BPCS.
Modernize BPCS Functionality
Nobody wants to work on outdated functionality, so the only option for organizations left is to modernize their overall functioning and automate the existing process. Furthermore, BPCS ERP modernization will enable data delivery through the dashboard, show analytics, add barcodes, and integrate easily with mobile or web services.
Modernize Your UIs
If you require a browser-based application to streamline your business process or modernize your software user interface, pick a company with vast experience handling BPCS system projects. An expert company onboard means less stress for you.
Integration with other Systems
More than anything, a BPCS system customer can find themselves in problems, when it comes to integrating with another system. Integration with shipping software, taxation module, warehouse system, corporate acquisition, or merger, the list is endless. We can make the integration process easy for you by implementing our technical expertise.
Expand Your EDI Capabilities
Data translation and mapping in EDI are complex and time-consuming tasks that can divert the attention of your in-house development teams. You can continually expand your EDI capabilities and keep the BPCS system up-to-date and efficient.
Modernize Legacy Code
At Integrative Systems, we have experience working in BPCS system environments and on all versions of RPG. This helps us understand the type of IBM iSeries business logic you may have, even if it is written decades ago for any version of RPG or AS400.
Also, if you want to modernize your legacy codes and make them easier to maintain and integrate, we are here to update your applications.
BPCS Software helps you Improve your Bottom Line through
Increased customer-service levels
Improved cost control
Consistent delivery of high-quality products
Ensuring efficient operations
Adapting the ability to adjust changes quickly without affecting the supply chain process
Regulatory compliance in various areas (Like FDA Article 21 and CFR Part 11)
Upgrade BPCS with Integrative Systems
In this fast-paced world, to stay ahead of competitors, up-gradation is the only MANTRA. It doesn't matter how many years you've been using the old technology, but you can always give hi-tech functionality to your software users without disturbing the current process.
At Integrative Systems, we can develop a rational strategy to modernize your BPCS package while eliminating risk and minimizing downtime. You can rely on Integrative's technical proficiency and broad business experience to get the job done. BPCS experts will work with you to make the process smooth and trouble-free.
Feel free to share your requirements with us at [email protected], and our BPCS experts will connect with you in 1-2 business days to take the process forward.