Are you looking for a versatile and skilled .NET developer to handle your business requirements?
Do you want to develop a professional website product and application with the help of a professional .NET development team?
You need to test the applications on different skill sets that can help you onboard the best talent in the industry.
It can be difficult to filter the top talent in the .NET from the rest, but the hiring task gets simplified if you know the basic and core skill sets.
What are the skills required to hire .NET developers?
Don't worry. We got you covered.
Let's have a look at the professional skills that a .NET developer should have.
Top Skills to Look for Before Hiring a .NET Programmers
You don't want to hire a .NET developer with mediocre skills and waste your time and energy helping them increase their skills.
To save your time and energy on the training, you need the best .NET developer. Here are the skills you need to look for:
Microsoft Azure
Microsoft Azure is the leading cloud platform globally, and you need to hire .NET programmer to use its functionality.
The demand for .NET developers with skills in Azure management is rising because of the usage of the computing power and resources needed for the project to decide the price for Azure services, and you need a professional to manage and utilize the resources.
You don't want careless software development to increase your bills. That's why .NET developers with the mastery of solutions and technologies offered by Azure can help your business.
ASP.NET Framework
One of the vital skills you need to check before you hire ASP.NET developer is their expertise in the ASP.NET framework.
It is one of the top frameworks companies use in web development. You need professionals with in-depth knowledge of the platform to deliver your desired results.
Many developers have expertise in using ASP.NET to speed their development process and inject different features into the web application for enhanced results and experience.
You need to test the applicant on their ASP.NET skill set, and if they have experience in using ASP.NET, they pass the initial selection round.
Database Management
One of the important skills that can play a vital role while hiring .NET developers is the database knowledge of the applicant. .NET has multiple in-built databases that a skilled person can manage and handle.
You need to test the applicant to ensure that they are creative and knowledgeable in managing the existing database systems. You should look for candidates who can handle databases like Oracle and possess SQL knowledge to execute .NET development tasks with finesse.
You can train the developers even if they have experience using contemporary apps like CouchDB or MongoDB. The .NET developer can help you achieve optimum efficiency while managing the data if they have experience in handling a dedicated database.
Expertise in Client-Side Technologies
An expert .NET developer should have a great understanding of the software development required by the clients. Different clients have different requirements, and having a wider horizon of working with multiple client-side technologies can help you get the best .NET developer onboard for your business.
The developer should have the ability to create online apps that are innovative, interactive, and engaging.
Having experience with different technologies like JavaScript, jQuery, CSS, HTML, and Bootstrap is required to develop web apps and services in sync with SQL servers.
Ensuring that the developers are aware of the ins and outs of these technologies is important for your business and your team's overall work efficiency. It can help you deliver professional, secure, and quality results to your clients.
SQL Skills
Having SQL skills is a must-have for the developers you want to hire for your .NET projects. Whether the applicant is specialized in Microsoft SQL Server or MySQL, you need to ensure that your next .NET team members know the nitty-gritty elements of handling SQL.
Data management skills and an understanding of data science should also be tested to ensure that you get the best applicant in your .NET development team. These skills can help streamline the .NET development and deliver the results quickly for better results.
A .NET developer with all-around SQL skills is a better option for your enterprise compared to .NET developers who lack SQL knowledge and expertise.
Problem-Solving Ability
Soft skills are also important to hire .NET developers compared to the core technical skills for delivering the best results in your organization.
Problem-solving ability is one of the vital skills you need to consider while hiring a .NET developer. Also, you should look for the creative approach of the candidate while tackling different situations and problems.
Having an out-of-the-box thinker in your project's backend is a plus point for delivering the best product solutions for your clients for your enterprise.
You can also ask the applicant to show up on their previous work to understand their skills and creativity. You can get an idea about the complexities of the problems they have solved before and their value to your business.
Examining the work can help you check your creativity levels and the mindset of the .NET developers to understand better whether they are fit for your organization.
You can also put the applicant into dynamic situations and state different real-time problems that can arise while managing your .NET project to access their answer and problem-solving capabilities.
The candidate's approach and answer can help you understand their knowledge and skill set and help you filter the applicants to find the best fit for your business.
You may also spot the future leaders in your .NET development team while accessing the candidates based on the problem-solving approach to help you achieve the desired targets within a minimal time frame.
Communication Skills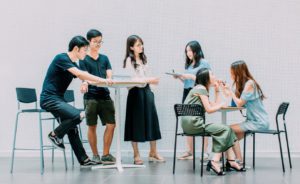 Irrespective of the technical ability of the .NET applicant, you need to access them based on their communication skills. If they can't communicate fluently, they are not a good fit for your .NET development team.A developer with good communication skills can work fluently in a team environment and increase the team's efficiency. A quality communicator expresses their views effectively, which can help the team resolve problems quickly.
Regular communication with the team and the management is necessary for .NET developers to fit in the corporate ecosystem and deliver the desired results for your business. So you need to analyze the applicants' communication skills before onboarding them.
Lack of confidence in communication can impact work efficiency and result in project delays, which can minimize your profits.
A quality .NET developer with great communication skills can explain the complex codes and their functionalities to the clients with the benefit of better understanding.
Having a combination of verbal and technical skills can help you break down complexities in the projects easily and ensure that you can achieve the desired business goals with finesse.
These are the top skills essential to hire .NET developers, and you need to analyze the applicants based on these skills.
Apart from these skills, you can also check a few certifications like Microsoft MVP and MCSD (Microsoft Certified Solutions Developer) certification to ensure that you hire .NET developers with a solid background and .NET knowledge.
These certifications are the benchmarks and are must-haves because they test the applicant in different maintenance and development aspects for managing a .NET project.
But if you want to bypass the hectic and time-consuming hiring process, you can outsource your work to a dedicated, well-vetted .NET developers team.
Hire the Best .NET Programmers
If you want to provide your target audience with a great customer experience and represent your professionalism with your web apps and software, you need the right talent and the best technologies.
The .NET framework enables businesses to develop quality software with multiple functionalities and many security benefits. And you need to hire .NET experts with creative minds to deliver the best results.
We, at Integrative Systems, have the right talent that can handle your .NET projects irrespective of the scale of the project. With years of experience handling .NET projects, we have built creative applications based on the .NET framework.
Our .NET developers have the blend of technical and soft skills required to manage projects professionally and ensure complete transparency. Our experts ensure that the quality of the results is intact and you get the best results within a specific time.
We can help you save your time and effort in hiring and managing a technical. .NET-based project. Our team offers professional .NET solutions at reasonable customized prices.
Experience the best-in-class.NET development services in the United States by hiring professionals from Integrative Systems.
Get detailed information about our services and discuss your project requirements with our experts.
Hire .NET experts by getting in touch at contact@integrativesystems.com.