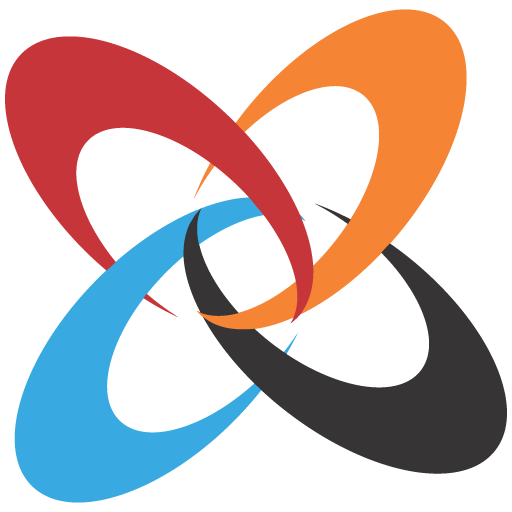 We hope you enjoy reading this blog post.
If you want Integrative to handle your IT challenges, click here.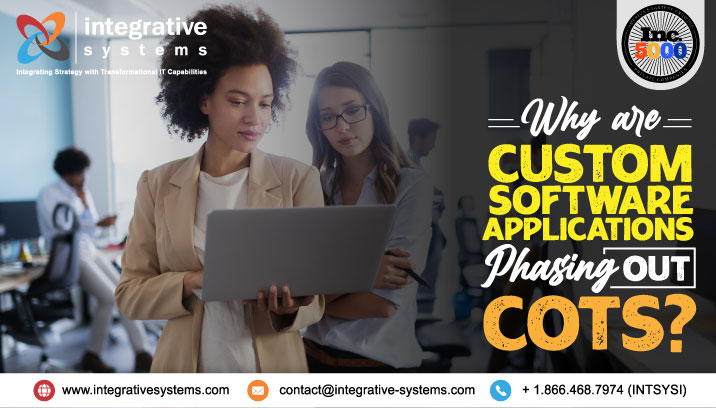 Why are Custom Software Applications Phasing out COTS?
For many companies, the yearly maintenance or license renewals make them uneasy. Organizations using (Commercial off-the-shelf software) COTS to automate their business processes, secure networks, monitor IT infrastructure, etc., always write-off the extra expenses incurred in maintaining their technology assets. A write-off is more an act of submission than an act of abundance. Many enterprises using COTS have higher TCOs due to the cost of maintaining their applications. Such enterprises are relooking into their strategies. Among the proposed changes in a strategy, the overhaul is to use the services of custom software development companies to help build low-code applications with low TCO. The following are some of the reasons why some companies prefer custom software development over COTS.
COTS may make organizations pay for more than what is required
COTS could provide an extensive feature-set, most of which may not apply to an organization's business requirements. Yet, an organization purchasing COTS is compelled to buy the application completely. Businesses end up paying for more than what is required. Over a while, the TCO of operating the COTS might override its benefits.
Organizations want a modular approach. That's why they are working with custom software development companies who can help them build customized applications. Being modular applications, they are versatile, and there is no technology or vendor lock-in. Modules developed by a vendor can always be replaced with another module from another vendor.
Evolutionary pace
COTS may not grow at the same pace as market and technology trends. It may not include incremental changes with the same frequency as custom software applications. Enhancements to COTS are made based on many factors. Enhancements are not made to keep the application updated with the market trends. Instead, they are based on customer feedback and feature requests from probable customers.
In custom software applications built by vendors such as Integrative Systems, unlimited enhancements are possible. It is easier to work with custom software developers than large COTS vendors. The custom software development services provider can easily upgrade the application.
One-size-fits-all is not the answer for most problem domains
COTS vendors build solutions are that are marketed as all-in-one software. The problem with such an approach is that many companies want only a limited subset of features. To prune an application to have only a specific set of features means it needs to be customized. Although COTS can be customized as per customer needs, it could be expensive for the customer. On the other hand, custom software applications have a per-customer customization focus. Irrespective of the number of customers, every customer gets a unique solution.
Limited configure-ability
COTS cannot support the tons of use-cases that various organizations may encounter. Even if COTS applications have rich feature sets, the feature sets may not fully cover the complex use cases of organizations. Companies use plugins, externally developed modules, and internal customizations to align their COTS portfolios to specific business requirements. But this approach defeats the very purpose of purchasing software. This is because no organization wants to spend extra money on customizing a solution. They would rather use custom software applications that are tailor-made to their specific business requirements.
Modified off the shelf software is as expensive
Companies that didn't find value in COTS resorted to the Modified off-the-shelf (MOTS) approach. In this approach, COTS is customized by in-house development teams. The customizations are generally unsupported by COTS vendors. But companies realized that this approach was costly. Compared to building custom software applications by partnering with a custom software company, customizing COTS was expensive.
MOTS required resources, training, orientations, skills workshops, testing, and management. It spawned more technical management overhead and was not a scalable approach. Another reason not in favor of MOTS is the lack of standardization. If the COTS vendors made upgrades, then the MOTS portfolio had to apply these upgrades, and compulsorily so if it was related to security. Another issue was that in-house customization led to a lack of coding, development, design, and testing standardization. It led to decreased integrate-ability between MOTS applications.
Open-source mix
COTS vendors are reluctant to integrate open-source technologies. The strategy is to monopolize the adoption of technology by not giving open-source technologies recognition. But in comparison to custom software applications, the open-source mix in COTS is still catching up. COTS introduces constraints in the way open-source features are leveraged. Most often, end-users are constrained to use proprietary technologies along with open source technologies.
Custom software application development is fully based on open-source technologies. Also, custom software application development can cater to all budgets – low, medium, or high. Businesses needing small to high-density solutions for various markets, problem areas, opportunities can use custom software applications. By partnering with Integrative Systems, customers could address business-specific challenges.
Regulatory and legal compliance
Custom software application development is preferable for solutions that need a high degree of regulatory and legal compliance. As an example, a COTS supply chain product may have customizability. But the customizations could be generic, as each company would have its own set of requirements. The COTS supply chain product may not be able to cater to these customizations. Companies need a better option – to build custom software applications for their specific needs rather than rely on COTS customizations. By building only a specific set of features, they can get a full-fledged solution and something that is lightweight and with low TCO. Custom software development houses such as Integrative Systems can build mini solutions for specific problems and also large solutions to address large problem sets. This versatility is often a catalyst for rapid business transformation.
Custom software applications belong to the company that purchased them
Even though purchased by an organization and deployed on-premises or in the cloud, COTS is not entirely the organization's technology asset. COTS is largely controlled by its vendor(s).
Organizations are fully dependent on COTS vendors for their upgrade, customization, and enhancement requirements. Also, COTS vendors control customizations and also do not approve any in-house customizations by the purchasers.
In contrast, custom software applications are entirely the property of the organizations that purchase them. Organizations do not need any permission from anyone to make changes. They are free to make any number of customizations.
Custom software can be maintained forever
COTS cannot be maintained for a long time. If done in-house, there is a limit up to which maintenance upgrades can be done. Bespoke software does not have such constraints. This is one of the reasons why large organizations prefer custom software applications.
Businesses can work closely with a custom software development firm such as Integrative Systems to strategize a business transformation through custom software applications. Integrative Systems help businesses with a portfolio of solutions, including business process optimization, data analytics, application strategy, etc.
Custom software can be easily protected
Security threats are a growing concern with corporates. COTS is not an excellent option to handle all the possible security threats. There could also be threats that need immediate attention. COTS may not respond to such threats promptly, but a customized application can easily be patched up for such security vulnerabilities. Once a security threat is detected, a patch can be released, and the application is re-deployed. It ensures that the data is always secure.
Conclusion
Integrative Systems (www.integrativesystems.com) offers 360 degrees bespoke custom software development services for all types of industries. Email at contact@integrativesystems.com to talk to an expert if you have any project in mind.
We can provide a scalable solution for your requirements involving highly specialized resources and technologies.